But she says her most impressive achievement has been finding her way back from tragedy.
As the older of two girls, I grew up on a large cattle farm about 100 kilometres north-east of Adelaide as part of a tight-knit livestock community. Our family lived on a 5000 head feedlot – my father was General Manager of the facility – and my sister and I commuted forty kilometres each way to attend school in Nuriootpa. Weekends were for riding motorbikes, long walks, and tending animals. Our nearest neighbours were over a kilometre away, so it was a relatively quiet life.
My parents Mark and Jenny worked in labour intensive jobs and instilled a strong work ethic into us. When I was not quite fifteen, I started working at the local hotel, but they always encouraged me to study hard and aim towards a career. I enjoyed helping others and this developed into an interest in psychology during high school, leading me to enrol at University of South Australia after attending open days and speaking with students and staff. I was interested in learning about how the brain works, human behaviour, and how to research it.
Although I received an offer, my family would struggle to pay for my relocation to Adelaide, making the prospect of confirming a place financially impossible. So, when I was told I had been awarded a Rural Reconnection Relocation Scholarship it felt like a huge weight had been lifted off my shoulders. I remember calling Mum and yelling into the phone that I had been successful. It was so great to get help to pursue a career outside of farming which was all home really had to offer. I felt overwhelmed by the generosity. It was like, I wanted to prove to the donors that I would be successful, making sure their donation was worthwhile.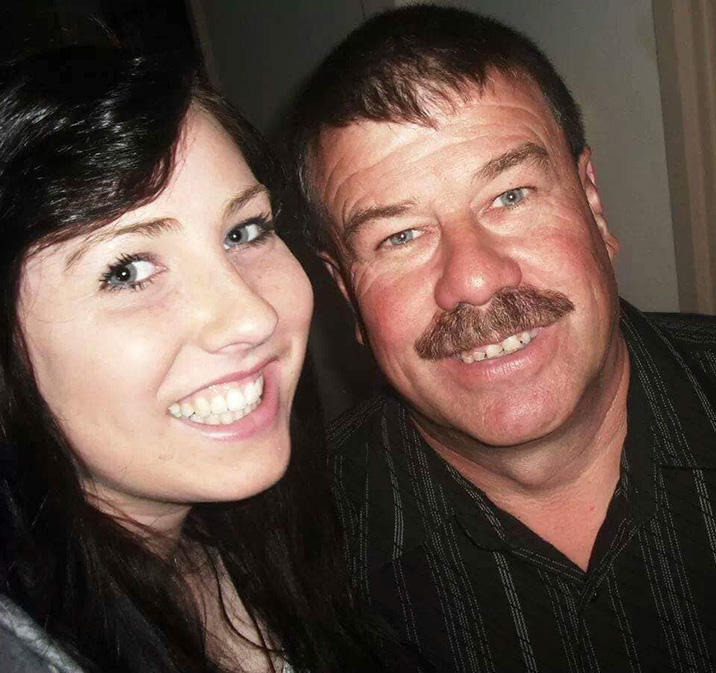 Stacey and her father, Mark
As a new student I found it easy to make friends which helped me feel like I had a family away from home. But adjusting to living so far away took some getting used to and the first semester was pretty nerve-wracking. A month after I moved to Adelaide, my father took his own life.
My family was devastated, and our entire community was rocked. Dad loved farming, motorbikes and mechanics, he served as a CFS member and was Chair of the School Council. He was a true pillar of the community, but he was also a pillar of our family, and then he was gone. The loss took a significant emotional toll and at times it was incredibly difficult for me to keep going.
I experienced first-hand what devastation a lack of access to services and isolation can cause and it made me even more motivated to pursue a Bachelor of Psychology. Continuing my studies in the very worst of circumstances required all of the grit and resilience I possessed, and I couldn't have done it without the support of my family and friends. I would continually remind myself that I was doing this degree so that I could help others, and that is what got me through.
Processing what had happened while studying, working part-time, and supporting my mum, my sister, and grandparents was hard. I felt like I was constantly juggling demands and there was rarely a day I had to myself. As well as my dad's suicide, our family also had to deal with the death of my grandfather during my final year. I am so grateful that the scholarship was there to fall back on. Without it I would have had to reduce my study so I could work enough hours to pay the rent.
Two years after Dad died, I began volunteering as a Suicide Awareness and Prevention Advocate. It was proactive and helped give purpose and meaning to my life. I got a lot out of contributing to a cause that was really close to my heart and it was a privilege to help others in their darkest moments. I still volunteer at Lifeline Australia and The Ripple Effect.
After graduation I landed a role at Barkuma in the Better Pathways program which is delivered in collaboration with the Department for Education and Child Development. It provides students with one-on-one support and a post-school aspirational plan through long term case management that continues until six months after leaving school.
Although I had faced so many life challenges already, I found myself nervous on the first day, but I needn't have worried. It was soon clear that my personal values aligned with the organisation and it was exciting putting to use all of the things I learnt throughout my degree and helping others explore their talents and learn new skills. After twelve months I was offered a permanent role in the Lifestyle and Intervention team. I get so much satisfaction from working alongside people with a disability and particularly enjoy helping students from rural areas.
Working in the field for the past two and a half years has allowed me to take the time to process my own pain. I believe in this profession that it is important to look after your own wellbeing so that you are better able to support others. I often remind myself when I am feeling overloaded that, 'you can't pour from an empty cup'. Looking ahead I feel ready to start focusing on career progression and would like to undertake postgraduate studies at UniSA and obtain a Masters degree.
My story is undeniably a happy one now. Life keeps going, new challenges emerge, and I know there are other students currently battling their own tough circumstances. I firmly believe that generosity can make a huge impact. It can be the jump start that someone needs to pursue their passions and change the world.
There are many reasons why people may not pursue studying at university. If they are financially supported, it removes one of those obstacles and allows them the chance to overcome significant hurdles. I am proof of that.
I am so aware of the difference a scholarship made to my own situation and how much it meant that donors believed in me and my future. I am evergrateful for the support that I received.
As part of my day-to-day job I have the privilege of helping others overcome barriers that prevent them from reaching their goals. I am inviting you to do the same. By making a donation to this year's Scholarship Appeal your help can be a game-changer for young people just starting out.
When you give, you are saying with your actions that this is important to you – that you are getting behind students like me.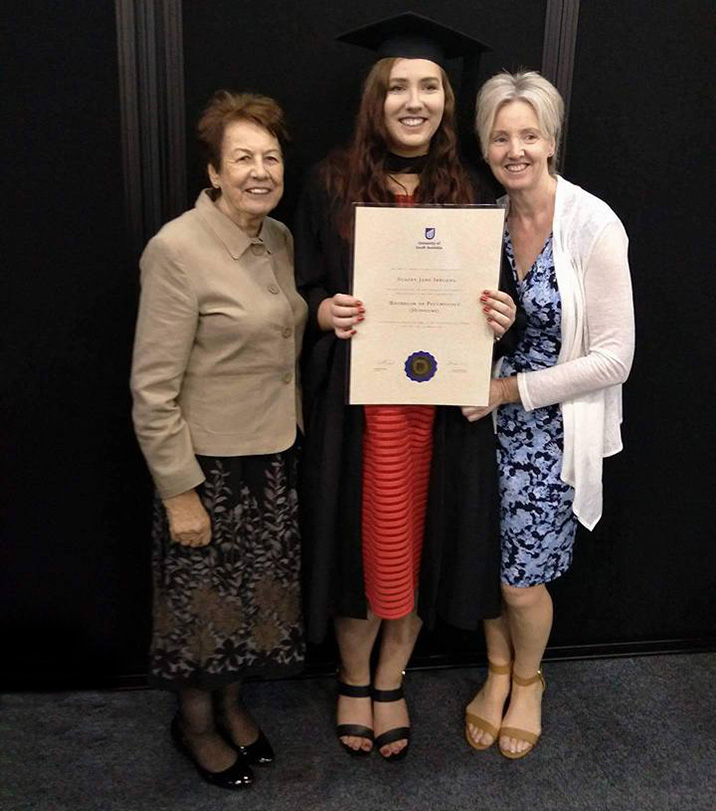 Stacey at her graduation, with her mother and grandmother
Right now, there are deserving students with worthy dreams and aspirations, unable to realise them simply because they've had a rocky start.
Will you support them?
Donate online at unisa.edu.au/scholarshipfund
Click here to read more scholarship recipient stories.