I was born in a South Indian village on the banks of the Meenachil River, 650 kilometres from Chennai. My siblings and I grew up surrounded by lush highlands, rice paddies, colonial bungalows and rubber plantations. Imagine pastel coloured concrete houses with lines of washing strung across front doors. Our family including my grandparents who lived with us are of Malayalam descent, meaning native to the Kerala region. I attended the primary school in the village, and the high school around thirty minutes from our home.
As a teenager I decided that I wanted to study overseas and dreamt that I might be able to go to Australia. My father agreed to help me if I could achieve above 90% in my Year 12 studies. As a student who had always prioritised social activities above hitting the books, this didn't come easy. I now had strong motivation to do my best! Australian tertiary admissions entrance scores were also high and so I had a twofold reason to succeed. Much to the surprise of my teachers I achieved 96%.
I chose to come to Adelaide and was accepted into a Bachelor of Commerce at the University of South Australia, commencing in 2008. As promised, my parents funded my education. I obtained a Certificate III in Aged Care and got a job as a personal care worker to assist with my costs of living. However, things didn't quite go according to plan.
My English was poor and I was struggling with basic communication. Aussie slang, the accent, and the speed at which locals spoke was difficult for me to understand. At just 18 years old I was living independently for the first time in my life in a foreign country, and was trying to cope with managing the unfamiliar environment away from my family and friends. During the second year it dawned on me I had made a terrible mistake.
My part-time job made me realise I wanted to pursue a career where I could help people and quite simply, I wasn't enjoying Commerce. I was miserable and decided to drop out. Predictably, my parents were not at all supportive of my choice. They felt I was wasting their investment and insisted I complete the degree. I explained I wanted to change my course – that nursing was my real passion – but they weren't convinced. It led to a major falling out.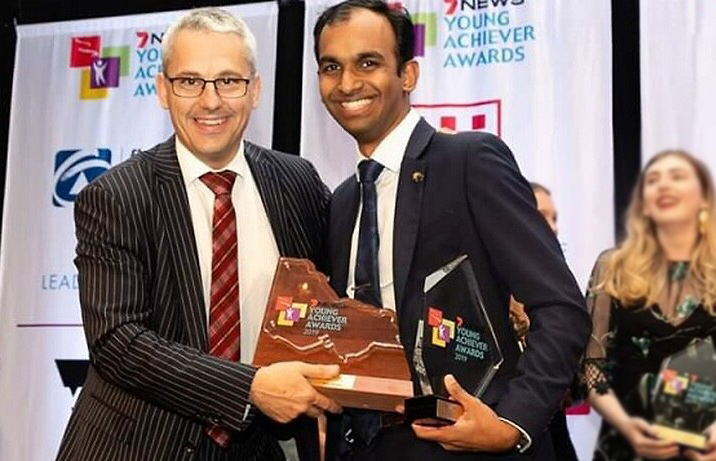 2019 Victorian Young Achiever of the Year
In 2010 I went to India for my sister's wedding and my parents informed me they were withdrawing all financial support. I returned to Australia and we didn't speak for several years.
Back in Adelaide I started studying a Diploma of Enrolled Nursing at TAFE to gain the necessary credit to enter a Bachelor of Nursing. Little did I know that things were about to get very hard indeed. Unexpectedly, my flatmates decided to move interstate and I became responsible for all the rent. I was also made redundant from my job as part of a change in ownership at the nursing home. Making things worse, I was estranged from my family. I had no financial support and no job. It was an awful time in my life. Unable to support myself, I wound up living in my car for three months and depression took over.
I suppose a sense of pride prevented me from fully conveying the difficulties I was experiencing and as a naturally shy person I kept most of my struggles to myself. Despite it all, I held onto my faith which gave me hope that there was a light at the end of the tunnel. I am thankful that some friends eventually helped me find a job, and my finances and living situation improved somewhat.
I took my chances and entered the UniSA Bachelor of Nursing program. Extraordinarily I was awarded an undergraduate scholarship valued at $10,000! I felt I was somehow being rewarded for following my dreams. The scholarship came at just the right time and I can't tell you what a difference it made.
Trying to complete study and finance it at the same time, is a big factor in student drop-out rates. I know firsthand that having the funds to continue study gives a student one less thing to worry about and allows them to focus purely on their degree.
The scholarship meant so much to me, especially as an international student. It was an extraordinary feeling to know that donors believed in me, particularly at such a critical point.
My life turned around and I started to get involved in student activities. I've always been passionate about leadership and wanted to be someone that my fellow students looked up to. I wanted to inspire people. After being elected as student representative for City East Campus I ran for and was elected President of the UniSA Student Association (USASA). During the two terms I served I was also a member of University Council and Academic Board. I have an Honorary Life Membership to USASA and was the first international student to receive this honour.
In my final year of Nursing I particularly enjoyed studying Health of Adults and Health of Older Adults subjects and was able to apply my knowledge in a real clinical setting during two hospital placements. When I was younger, my family cared for my grandmother within our home environment right up to her passing. I am certain this early experience contributed to my interest in the aged care sector.
When I finally crossed the stage as a Nursing graduate it was the proudest moment of my life.I reflected on the past five years with great satisfaction, realising I had battled through adversity and succeeded. It was also around this time that my parents and I reconciled.
My passion for social and humanitarian causes continued beyond university. I have been a member of Australian Red Cross for many years and in 2015, I was appointed to its South Australian Advisory Board. I also sat on the board of directors for Carrington Cottages Management Inc. providing policy leadership to tackle the issue of homelessness.
After working as a Registered Nurse in Adelaide I moved to Horsham to take up a role at Edenhope & District Memorial Hospital as Associate Nurse Unit Manager. I also provide strategic leadership at Stawell Regional Health as one of its youngest board members.
I suppose it was my enthusiasm for what I do that led to the 2019 Victorian Young Achiever Awards nomination for extraordinary leadership in rural and regional health and aged care. I consider it a privilege to be able to care for the elderly in our communities. Last year I received the Victorian Celebrating Aged Care Leadership Award for my work in palliative and advance care. In 2016 I received the Channel Nine South Australian Young Achiever People's Choice Award. My achievements are now being recognised.
My journey may be seen as a success-story, but back when I was struggling with depression and homelessness, I can tell you that the scholarship was the main turning point that I needed to change my future.
As I write to you, I am mindful there are students currently battling their own difficult circumstances. I firmly believe that generosity can make a huge impact. A scholarship can be the jump start that someone needs to pursue their passions and change the world.
For this reason, I decided to become a donor myself and established a Leadership Scholarship for Aboriginal and Torres Strait Islander students in 2018. It supports those who demonstrate motivational leadership and social responsibility while balancing their studies.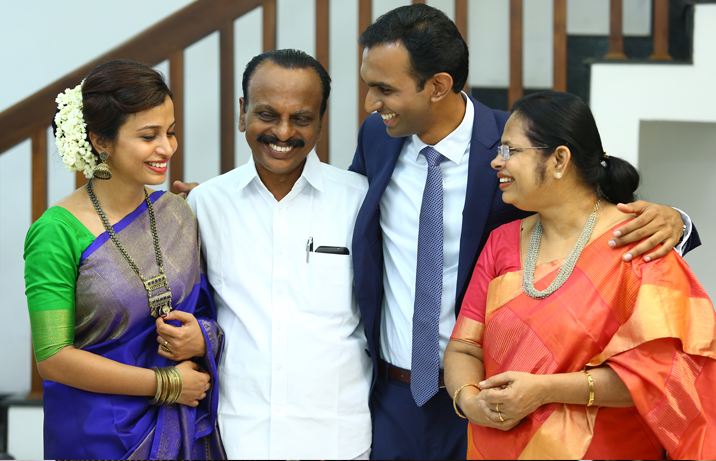 Arun, his parents and his sister
I am doing so much more than I ever thought I would and living a better version of the future than I ever imagined. I wouldn't be where I am today without that scholarship. Someone believed in my future, ignored the stereotypes and encouraged me to be the best I could be. I am inviting you to do the same.
By making a donation to this year's Scholarship Appeal your help can be a game-changer for a young person starting out.
An act of faith ensures a better tomorrow for those who need a little extra help today.
When you give, you are saying with your actions that this is important to you – that you are getting behind students like me.
Generosity takes conviction. With everything going on in our busy lives, it requires a certain strength of character to think of others.
Right now, there are deserving students with worthy dreams and aspirations, and whatever personal challenges they may face I can assure you a scholarship can be the one thing they need to change their life forever.
Will you support them?
Donate online at unisa.edu.au/scholarshipfund
Click here to read more scholarship recipient stories.