Former Invictus Pathways Program (IPP) participant, Darren Peters, has kindly shared his story to help encourage more support for the IPP and empower first responders, and current serving and veteran personnel, through the program.
As an Army veteran I have seen the very worst and the very best in people in war-torn worlds. I have saved lives of my comrades while serving my country and saved lives of those we are helping to defend.
Yet assimilating back into society after my service has been one of my biggest struggles and I can tell you that UniSA and the IPP has given me a new lease on life.
The IPP – the only one of its kind in the world – helps transform lives of those who have physical, emotional and /or psychological conditions often suffered as a result of traumatic events, by providing an integrated wellbeing, empowerment and sports program.
For me, it couldn't have come at a better time. The IPP has been so important to my mental and physical recovery and re-integration back into society after serving in the military for 22 years.
I was medically discharged in 2008 and worked in the private sector until August 2017 when I just couldn't do it anymore. My time in the military left me with significant injuries from head to toe, including only having 47% lung capacity from dust and diesel fumes while on tour in the desert.
I knew that I had to get involved in something productive and couldn't sit at home. The following month I came across a 'come and try day' for archery with the IPP.
After a relatively short time of training, the sports and wellbeing program and personalized treatment at the IPP, helped me and a few of my team mates to enter the Invictus Games in Sydney in 2018 where I represented Australia in archery and wheelchair basketball.
To win gold was a very conflicting experience. I was so excited and proud of myself for doing so well, but at the same time I felt so much guilt as a progressed through the competition. Each time I won, it meant my competitor had not and therefore was out.
During the semi-final, I became so overwhelmed and broke down. I kept apologising and saying, "I'm so sorry" to my competitor from Denmark. He knew what I was going through and gave me his red shirt, which I wore on my belt as I won gold – we shared this special moment together.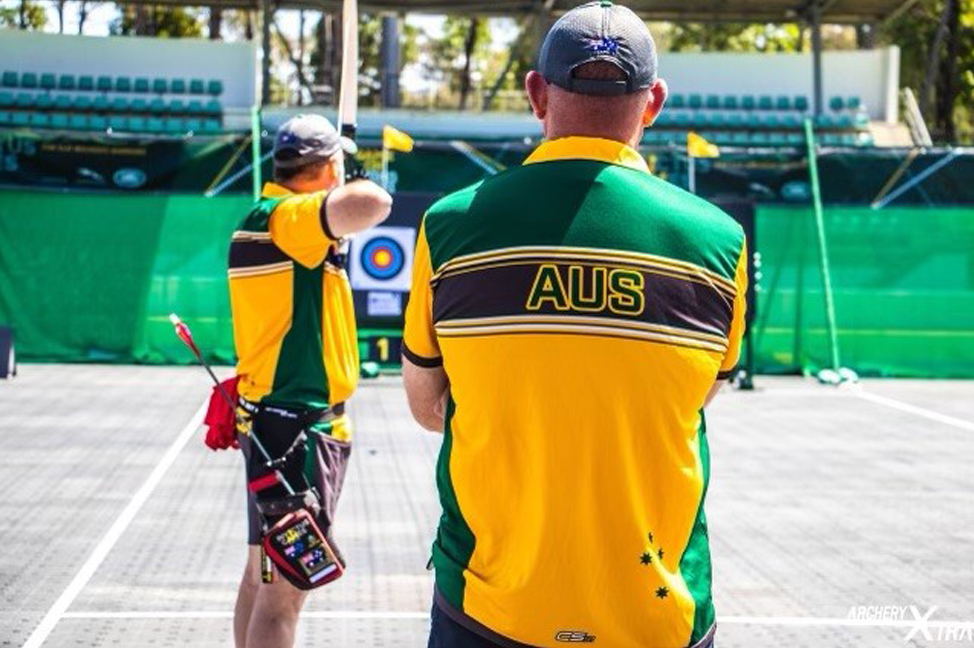 I noticed at the Invictus Games that the competitors from all over the world shared the same challenges as I do; the only difference is that we are separated by thousands of kilometres.
So many of us are dealing with the after-effects from our time in service and experience PTSD, depression, and anxiety. These are complex issues that we have brought home with us and ultimately affect our families and loved ones too.
Personally, I found that I just didn't know how to deal with my PTSD, depression and anxiety. Thankfully, the IPP has given me a different, more positive, mindset, and has helped me to live with my mental health challenges. This feeling of empowerment then comes home with me as I share stories with my wife and three daughters about what I have achieved that day.
My wife of 20 years, Nicole, has seen the positive change in me and is grateful for the program. She also served in the military in the Air Force and became a participant too after seeing the changes in me.
After spending three years in the IPP, I felt confident to be able to leave the program. I also knew that by me leaving it meant someone else could join who was struggling and could really benefit, like I have.
Being a part of a team again and bonding with people just like me has really helped mentally, as well as physically. The UniSA students who work with us are bloody amazing. Their personalised treatment has worked wonders on my fractured and inflamed body.
The program has been the pathway to exceling in something and believing in myself again. Please support the IPP at UniSA and help empower current serving and veteran personnel and first responders – people just like me.
When you donate today, you gift will help more first-responders, serving and veteran personnel to improve their wellbeing through the IPP at UniSA.
I believe in it so much that I have donated too.

Thank you,

Darren Peters

Former Invictus Pathways Program participant