Throughout high school, harbouring a dream of being able to attend university made me rather the odd one out. The majority of students I went through school with never considered tertiary education. Among my social circle, having a family member who had attended university was out of the ordinary.
Students like myself who come from low-income backgrounds, often have the least chance of success. They are less likely to begin university, less likely to finish. Despite this I never felt 'disadvantaged'. My upbringing was perfectly normal and functional. It's just that my environment conditioned me to believe that university was for wealthy families from private schools.
Although I didn't have a clear idea of what my future held, I loved learning. Economics, business, society, culture… I wanted to understand it all. My teachers encouraged my passion for knowledge and because I was performing academically, suggested I apply for entry to university. One of my lifelong personal values is to never pass up an opportunity. I figured it would be a waste not to take advantage of a chance I might have, so I submitted an application for a double degree of Commerce and Business, alongside an application for a High Achievers Scholarship.
I clearly remember the day I received the phone call telling me I had been awarded the scholarship. I went home to announce to my excited family that university had just become a reality, with the burden of financial pressure now lifted. That moment is something I will never forget.
I loved university from the get-go. I was so enthused to be there and I was excited to be learning about macroeconomics, financial accounting, business law, and financial markets – all topics that fascinated me. I was getting to know other students and I threw myself into social activities and student clubs. I wanted to give back and couldn't think of a better way than volunteering as a Student Campus Representative. I really enjoyed this experience advocating for the interests of the student body.
In addition to studying and volunteering I also worked at Foodland throughout university. At best, my schedule was busy. At worst, it was outright crazy. Juggling two degrees, working, paying my own way and trying to help support my family financially was stressful. The scholarship definitely helped.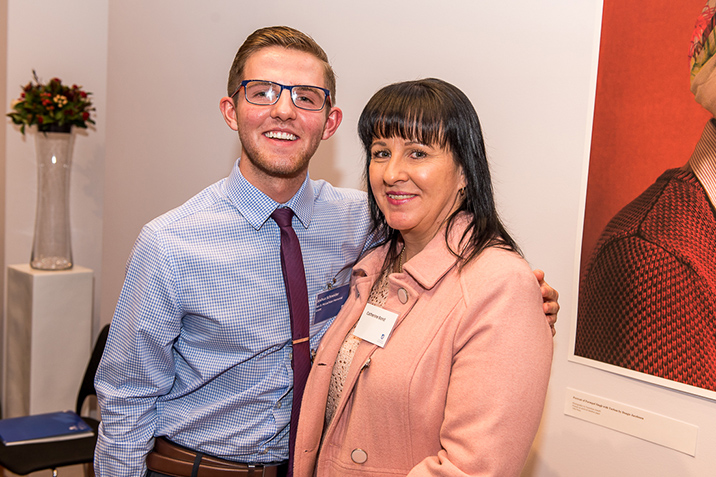 Joshua and his mum at a donor thank you event
My job allowed me to continue supporting my family, while the scholarship removed the obligation to work more shifts to pay for my own living costs. It would have been so difficult to juggle my finances if not for the generous support I received.
Statistically, first-in-family university students struggle academically and have higher drop-out rates than other students. Gaining admission isn't necessarily the golden ticket we might like it to be and it's what happens next that is critical. I always maintained a deep and true awareness that I was the beneficiary of others' investment. Knowing that donors were cheering for me in my corner made me strive to keep going even when it was tough.
I believe in choice and self-determination. These are guiding principles for me. The first year at university opened my eyes to opportunities that were available, not just academically, but in the real world. Life opportunities, if you like. The future held untold possibilities with the ability to work in a wide range of industries across private, public and non-profit sectors, and in other countries.
I was determined to make the most of all of it. I successfully applied for the High Achievers Summer School grant which saw me spend the 2017 mid-year break in Montreal at a French language school. I always had a keen interest in learning French and the chance to participate in an exchange overseas and explore Canada was again, only made possible because of the generosity of donors – I never would have been able to consider it otherwise. Understanding that individuals were investing in my dreams, reinforced my determination to continue chasing them.
Heading into my final year I applied for an additional scholarship. In the finance sector, internships are crucial for work experience opportunities and for securing post-university employment offers. I knew I would be required to spend significant time completing applications for intern and graduate programs, meaning I would have less time to work.
As things turned out, I was ultimately awarded the scholarship and it meant the world to me, especially when I received an offer to become a Graduate Auditor at the Auditor General's Department – the result of one of my hard-won internships.
On day one of my first professional job I was struck by a sense of my hard work having paid off. But it wasn't just my efforts that got me to the finish line. My journey was underpinned by the belief of others. I feel such a sense of gratitude to those who helped me. If you asked me five years ago about my future ambitions I probably would have said "to get a job and a house". I now have a different idea of what success means. It's about being empowered, taking responsibility, and giving back.
Low-income students face barriers to success at every stage of their education in spite of their academic achievements. I firmly believe that generosity can make a huge impact. It can be the jump start that someone needs to pursue their passions and change the world.
That's where you come in. By making a donation to this year's Scholarship Appeal your help can be a gamechanger for a young person just starting out.
I wouldn't be where I am today without that scholarship. Someone believed in my future, ignored the stereotypes and encouraged me to be the best I could be. I am inviting you to do the same. When you give, you are saying with your actions that this is important to you – to get behind students like me.
Generosity takes conviction. With everything going on in our busy lives, it requires a certain strength of character to think of others.
Right now, there are deserving students with worthy dreams and aspirations, and whatever personal challenges they may face I can assure you a scholarship can be the one thing they need to change their life forever.
Will you support them?
Donate online at unisa.edu.au/scholarshipfund
Click here to read more scholarship recipient stories.