NRF Chair of Brain Tumour Research, Professor Stuart Pitson and his Centre for Cancer Biology Lab, will receive a particularly meaningful gift in memory of the late Hannah Philbey in aid of their vital cancer research.
Thanks to funds raised by her loved ones and the NeuroSurgical Research Foundation in the wake of Hannah's battle with glioblastoma and her death, Prof Pitson's Molecular Signalling Laboratory will receive an EVOS M5000 Imaging System as they strive to find a cure for the brain cancer that took her life last year.
The $22,500 all-in-one digital microscope, camera and computer will become an integral part of the Lab as it will allow for greater understanding of the effects of new drugs on tumour cell survival and migration, as well as for understanding the roles of genetic mutations in driving tumour growth and invasion.
Hannah's EVOS will also go a long way in combatting the many aggressive forms of brain cancer that have little chance of survival as it will greatly enhance capacity to understand brain tumour biology, in addition to identifying and developing new anti-brain tumour drugs.
"The survival rate for brain cancer has barely changed in the last 30 years and for patients with glioblastoma, it remains an incurable disease. Through our research we hope to achieve more effective treatments for brain tumour patients," says Dr Melinda Tea a Research Scientist at the Molecular Signalling Laboratory.
"This microscope will enable us to analyse the growth of brain cancer cells in real time, allowing us to proceed more quickly into testing drugs on these brain cancer cells and in our advanced pre-clinical models of brain cancer."
"We hope this will translate to better outcomes for patients."
In 2015, Hannah Philbey, a 33-year-old young mum of two, was diagnosed with a Grade II Oligoastrocytoma, a low-grade form of brain cancer. She beat it with a gruelling mixture of surgery, radiation and chemotherapy treatment, however in 2018, sadly the cancer returned as Glioblastoma.
Throughout the three-year battle, Hannah became acutely aware of the lack of funding for brain cancer research and as a result worked hard to raise funds and spread awareness, highlighting the importance of brain health.
"I promised myself I would make a difference and spread awareness – if not for me – for my children, their friends and families," Hannah previously said in response of her tireless campaigning, motivation, and beloved children, Max and Lara.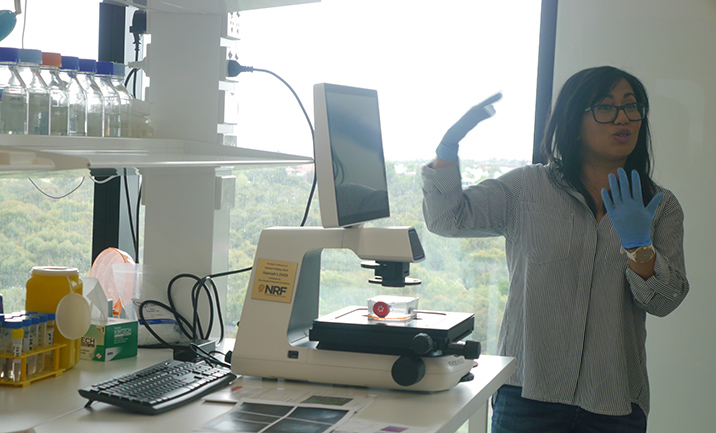 Dr Melinda Tea explains her research and the EVOS microscope's capabilities
Now, Hannah's life and legacy will be remembered in the Centre for Cancer Biology's Molecular Signalling Laboratory with equipment that will go a long way to improve the outcomes of others diagnosed with brain tumours.
"We are incredibly grateful for the support we have received from Hannah's family through these fundraising efforts for the NRF. With these funds we hope to be able to make a real difference," says Prof Stuart Pitson, research professor and head of the Molecular Signalling Laboratory.
"Generous donations like this also provide a continuous source of motivation for the research we are doing to help improve survival rates for patients and their families."
"Seeing Hannah's name on the microscope will be a daily reminder of how important our work is to try to make a difference for those affected by brain cancer."
Executive Officer of the NeuroSurgical Research Foundation and friend of Hannah's, Ginta Orchard, says, "Today Hannah has taken one step closer to making a difference. In her memory we now have Hannah's EVOS which is critical for brain tumour research."
Hannah Philbey's EVOS and commemorating plaque was unveiled on Friday, 24 January at the University of South Australia's Cancer Research Institute Building which houses the Centre for Cancer Biology and their researchers, in front of her loved ones and the researchers working towards a cure.