Welcome to the summer of 2014. That's me in the pink dress at the opening of Bendigo and Adelaide Bank's new head office. At the time I was just twenty-five and was selected to speak alongside our Chairman, Managing Director, and the (then) Prime Minister, Tony Abbott.
I was raised in the village of Senggigi, Indonesia. I am of Sasak descent, I'm a proud Indonesian-Australian and I work as a Data Scientist in one of Australia's biggest retail banks. I've come a long way from West Nusa Tenggara….
From when I was very small my parents ran a backpacker's hostel – the first tourist accommodation in our region – located on the northwest coast of the island of Lombok, near the Gili Islands. We had around two hectares of land and kept chickens which were raised for meat. Our village was basically an unsealed road and maybe 100 houses, separated by alleyways just wide enough for motorbikes to pass. Horse-pulled carts rambled alongside small covered pick-up trucks or 'bemos' loaded with vegetables for market, and fast food chains were non-existent. In front of our home was a sandy beach and behind, bright green rice fields with mountains in the background.
I followed the typical path of girls in our village and started attending school in Mataram – the island's largest town – around half an hour away where I was Head Girl in most of my classes. After school I would come home to help in the hostel. I loved being able to meet people from all over the world and it was a good chance for me to practice my English. There were frequent power black outs and I have many memories of doing homework by candlelight.
When I was twelve, my parents' marriage ended and my father remarried. My mother who had always dreamed we might receive an education in Australia, left Lombok two years later and moved us all to Adelaide.
Coming to terms with a vastly different way of life in Australia was a big adjustment for a fourteen-year-old. On my very first day of school I came home and asked my Mum how to say, "I hate school" in English. Year 9 is a difficult period for teenagers generally, but as an outsider trying to fit in it was even more complicated. Everyone already had their cliques and I was the newgirl with an accent, struggling to master the language. I was 'different'.
It was amusing to observe Australian teenagers' outlooks on life. Some of my classmates thought having to catch the bus to school instead of being driven was the end of the world. But I didn't judge them. I knew their experiences growing up were different from mine.
Far from the high-achiever I had been all my life, I now grappled with subjects where I had to translate English back to Indonesian in my head to understand it. Only mathematics with its common universal language felt familiar – it was logical and I was able to see patterns and grasp the concepts easily. It ended up being my favourite subject.
I have always had rather thick skin and gradually my natural resilience came to the fore. When I was teased for the way I spoke I would turn it around into a joke and make people laugh. I learnt not to take things personally. If I didn't easily fit, I would make my own way.
Year 12 was a tough year. I suppose it is for most students, but for me it was the year I lost my Dad. He had been diagnosed with diabetes earlier in his life, and in 2007 he suffered a fatal heart attack. Despite being in a different country to his children, he had devotedly maintained a connection with us and had been to visit on several occasions.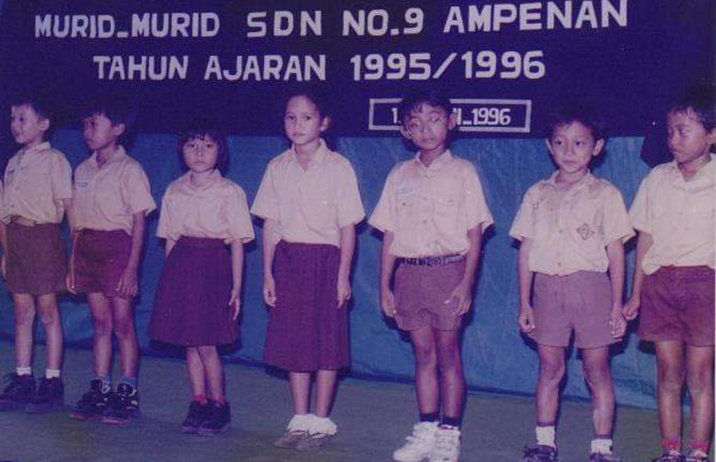 Sarah (4th from left) at school in Mataram
The year raced by and there were decisions to make about what I was going to do with the rest of my life. I knew I wanted to continue studying but wasn't sure what to do. Dealing with my Dad's death I simply didn't have the energy or inclination to think about anything long term. I thought the only career in which maths might be useful was Engineering, which didn't interest me. When I happened to come across an advertisement on the back of a Year 12 exam preparation book for the UniSA SA Water Hypatia Scholarship, it changed my life.
Until then, I wasn't aware that you could study mathematics degrees at university. The scholarship was being offered to female students enrolled in a Bachelor of Quantitative Finance, and after making some initial enquiries, I applied. I succeeded in achieving the requisite ATAR in my Year 12 results and was extremely honoured and privileged to be awarded the Scholarship over three years, commencing at UniSA in 2008.
Being able to study in a field that I enjoyed and could make a career out of was exciting and encouraged my sense of ambition. Subjects were split equally between finance and mathematics – generally Finance degrees are popular whereas not many people tend to study Mathematics. It was interesting to have one lecture where there was two hundred people in the room, and then going into the next where there was only five!
Receiving the scholarship provided significant and welcome financial support. I worked part-time as a waitress but I would have needed to work many more hours and compromise my grade point average were it not for the scholarship. But it was more than just the money; what drove me was the knowledge that others believed in me and my potential to be successful as a woman in a traditionally non-female field. I think there's a lot to be said for sheer optimism and positivity in all situations and the belief that you can do anything if you're given the opportunity.
In my final year I was fortunate to participate in a Financial Mathematics semester exchange to the University of Twente in the Netherlands which was an amazing experience. After returning I decided to enrol in a Bachelor of Applied Science (Honours) (Industrial and Applied Mathematics) which I completed in 2012. I was selected into the graduate program at Bendigo and Adelaide Bank soon afterwards.
My first day on the job was nerve wracking yet very exciting. The two year program had us on rotations in different departments within the Bank and I spent time in Finance, Risk, and Products. I thoroughly enjoyed the experience I gained in analysing real-life data. At the end of the program I was offered a role as a Financial Analyst and a year later successfully progressed to Product Analytics Manager. In 2017 I commenced a Masters degree in Data Science at UniSA and was offered a Data Scientist position within the Customer Analytics and Insight team – a role I have been in for two years.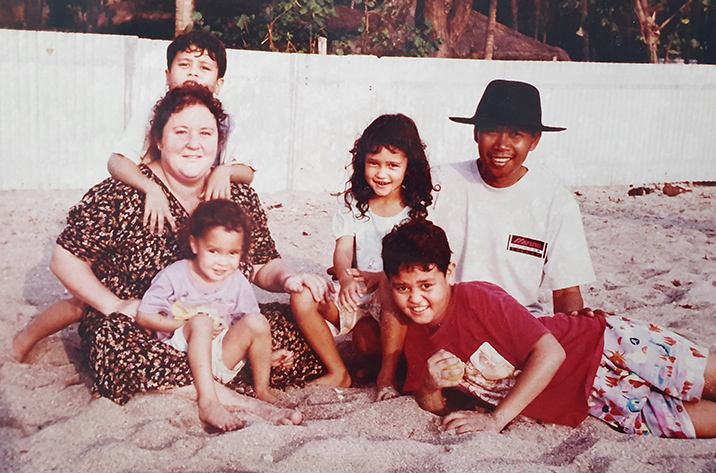 Sarah and her family in Senggigi
I am very proud of working for a bank which has a strong regional presence and locally governed branches. Our Community Enterprise Foundation directs charitable funds into hundreds of causes, with profit going back to local communities. This is important to me because I recognise that the generosity of others was transformative in my own journey.
Generosity can make a huge impact. It can be the jump start that someone needs to pursue their passions and transform their world. My achievements are not just my own. They can be attributed to the sacrifices my mother made and the vision and support of donors. Looking back to the girl I was playing on an Indonesian beach, I am aware that I owe so much to the kindness of others.
Right now, there are other students like I was, with worthy dreams and aspirations, and whatever personal challenges they may face I can assure you a scholarship can be the one thing they need to change their life forever.
When you give, you are saying with your actions that this is important to you – that you are getting behind students like me.
That's where you come in. By making a donation to this year's Scholarship Appeal your act of faith ensures a better tomorrow for those who need a little extra help today.
I wouldn't be where I am today without that scholarship. Someone believed in my future and encouraged me to be the best I could be. I am inviting you to do the same.
Generosity takes conviction. With everything going on in our busy lives, it requires a certain strength of character to think of others. In giving to the Scholarship Appeal your help can be a genuine gamechanger for students starting out.
Will you support them?
Donate online at unisa.edu.au/scholarshipfund
Click here to read more scholarship recipient stories.