Australia has the highest rates of melanoma in the world, and every day 50 people are diagnosed with melanoma, and three to four people will die.
Researchers at the Centre for Cancer Biology (an alliance between SA Pathology and the University of South Australia), have discovered a new protein which dramatically accelerates the spread of melanoma – a disease that is almost universally fatal if it spreads to vital organs.
Forty per cent of newly diagnosed melanomas express this protein, called desmoglein-2 or DSG-2. For people with DSG-2 on their melanoma cells, the chance that the cancer returns is twice as likely and they will be two and a half times more likely to die within 10 years.
"The identification of this protein is a major breakthrough in preventing the spread of this disease", says Professor Claudine Bonder, Head of the Vascular Biology and Cell Trafficking Laboratory Centre for Cancer Biology, University of South Australia.
"Our research team is developing new detection tools and targeted treatments that will be specifically tailored to deactivating this protein.
"Our initial lab work has shown how to identify and block DSG-2 using nanotechnology. By injecting a cancer cell-seeking molecule, we can find these melanoma cells and attack them."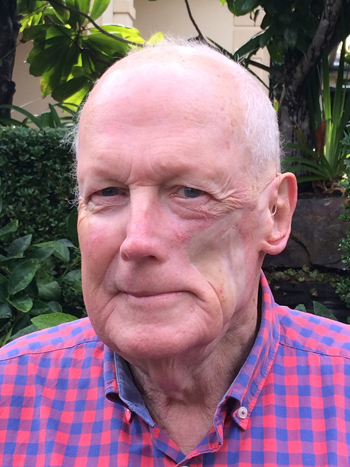 Further support for research is something Ian Dempster (pictured) is passionate about – a melanoma diagnosis in 2014 led to years of surgery, drug infusions, radiotherapy and finally, remission.
Over two years, Ian had 35 intravenous infusions and lost a portion of his left cheek, replaced with a skin graft from his wrist.
"Melanoma is so prevalent in this country and anything we can do to support research to find better treatments and even a cure, is vital," said Ian.
"We have the target in sight but need your help to progress our important work, and we need to act fast", says Prof Bonder.
When you donate today, 100% of your support will enable us to develop innovative treatments to deactivate this protein and stop the cancer.
A donation to melanoma research will have the following impact:
$70 provides an hour of research
$700 a full day of research
$1,000 goes towards developing a histology test to inform a patient if their melanoma is DSG-2 positive or not.
Visit donate.unisa.edu.au/melanoma to make a donation.